Please note that this action cannot be reversed and by deleting your account your ZeroSSL subscription will be removed and all customer information will be canceled immediately.
In order to cancel your account please follow the below steps:
1. Click on your Account icon in the ZeroSSL interface's upper right-hand corner
2. Select "Account" from the dropdown
3. At the bottom of the screen you can select "Delete Account"
4. A pop-up message will ask you to confirm the deletion by typing DELETE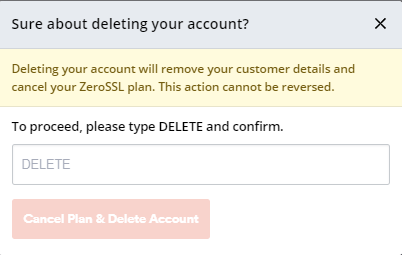 5. Once entered, you can select Cancel Plan & Delete Account